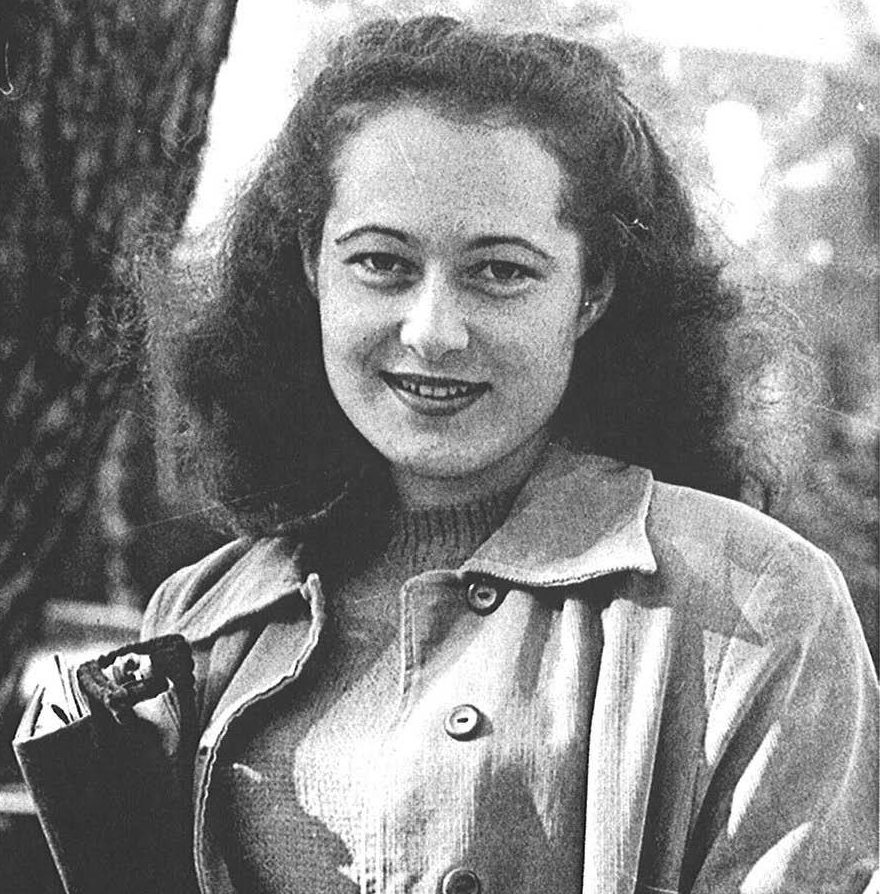 Verna Mae Brooks Scholarship
Verna Mae (and the full name is important – she detested being called just Verna) was born in Chicago, Illinois, on February 1, 1928, but her parents moved to Davenport, Iowa, shortly thereafter, and she lived there until we moved to California in 1955. She died in Fresno on November 26, 1995.
We met at the Unitarian Church in Davenport while we were in our teens and dated through our high school years. Verna Mae went to the University of Iowa in Iowa City while I went to St. Ambrose College in Davenport before going to the College of Law at the University of Iowa. Strangely enough, although Verna Mae had lived only a short time in Chicago, that qualified her for a tuition scholarship for her four years at the University of Iowa. She also had a board job at the dormitory she resided in which helped with her expenses.
Verna Mae started as an art major since she had considerable drawing talent, but became frustrated with the Art Department's total lack of interest in anything that had any possible tinge of being "realistic" or "commercial." She turned to another strong talent – writing – majoring in and graduating with a degree in Journalism. She really loved the study of history, but in those days history majors were supposed to go into teaching, and that had no interest for her. Hence what seemed the practical choice of journalism.
Verna Mae was not an aggressive person although she had definite limits on what she would put up with. The result was that she could not find a satisfactory job in journalism and returned to a job as a secretary in Davenport while I finished law school and a two-year stint in the Army as a draftee during the Korean "police action." Actually, her writing talent and training proved a real asset for her employers who could rely on her to clean up their problems with communication. We were married in April of 1955, and came to California that fall so I could obtain a Master of Laws degree from Stanford. Verna Mae helped to support us by serving as secretary for Stanford's Dept of Health Education. In 1956 what was then Fresno State College decided to hire me to teach Business Law, and we came to Fresno. While I was becoming a teacher, Verna Mae took a job as secretary for the local IRS fraud division. For the next couple of years she was more skilled at her job than I was at mine.
When we got our college debts paid off, Verna Mae became a "homemaker." She also decided to go back to school to take courses at Fresno City College in subjects she had missed out on at the University of Iowa. Because she was taking the classes to learn and had the time, she was always one of the best students. In one class the students had to state their background, and it turned out that Verna Mae was the only one that had a degree. After she earned the top grade on the first midterm, the instructor announced that Verna Mae was not part of the curve – much to the relief of her classmates. One subject she was not interested in, however, was Law. She said she married a lawyer to take care of that so she could study more interesting things. It is Verna Mae's love of and dedication to learning that is one reason for your scholarship, and its modest grade requirement.
In October 1972 Verna Mae became one of the founding volunteers of Friendship Center for the Blind which was under the leadership of Dr. Andrea Schwartz. At that time the Center was handled entirely by volunteers. Its primary purpose was to serve the needs of elderly blind people, but all ages were welcome. Later the Center obtained funding to hire paid staff, but for the first several years most of the work was done by volunteers. Verna Mae conducted a service program which did envelope stuffing and other paper assembly work for other charitable organizations. That gave the blind members of the Center a sense of making a contribution to the community with a useful activity. She learned simple Braille and taught it to some of the newly blind to help them make the adjustment to their blindness. And like many of the other volunteers she helped provide transportation for the members to and from the Center and on outings.
Another activity which started as an adjunct to Friendship Center was Verna Mae's founding of a program for the elderly visually impaired at San Joaquin Gardens. For the group (called VIP) Verna Mae developed a study program on sight and its impairment as well as on coping skills for those with vision problems. She researched sight and developed teaching tools from household items to help her people understand their difficulties and how to cope. As with her activities at Friendship Center, Verna Mae's empathy drew people to her and enabled her to give help and a sense of understanding to them.
When her own physical problems increased, she had to give up what she could no longer handle, but she deeply missed the regular contact with the people she had gotten to know. I am sure that they strongly missed her as someone who had become an important part of their lives.
During the last of her years with Friendship Center, Verna Mae became a volunteer driver for the local chapter of the American Cancer Society in their program called "Angels on Wheels." The drivers take cancer patients who lack transportation to and from medical providers. When she had to give up the Center, she continued with the Cancer Society as a driver and also volunteered time at the Society office to help with telephone answering and other clerical operations. However, as her health problems increased she had to give up this activity as well.
Although Verna Mae never was a published author, her letters to friends were deeply treasured, as they told me after her death. So her writing did have a tremendous impact on others. Her volunteer service also had a tremendous impact on those she helped. Now her impact is carried on through your scholarship. I hope your status as Verna Mae Brooks Scholar will lead to a continuing impact on society as did this wonderful woman. Good luck in achieving your educational goals, and when the time comes maybe you can pass on to others some of the bread cast on the waters by Verna Mae.
Best Wishes for your Future,
Wayne A. Brooks
Professor Emeritus of Business Law, Craig School of Business
California State University, Fresno